Description
Ancestor Treasure
Herbal Supplement
Yang Tonic
Indications:
Active Ingredients:
Rehmannia glutinosa root - shu di huang prepared - certified organic
Cordyceps sinensis – shen nong - certified organic
Polygonum multiflorum root - he shou wu - - prepared (cured) fo ti - certified organic
Trigonella foenum seed - hu lu ba - certified organic
Black Sesamum indicum - Zi Moa - certified organic
Cinnamomum cassia bark - rou gui - certified organic
Ascophyllum nodosum herb - kun bu - certified organic
Epimedium koreanum herb - yin yang huo - certified organic
Ganoderma lucidum fungus - ling zhi - certified organic
Foeniculum vulgare fruit - xiao hu xiang - certified organic
Herbal Teapill General Information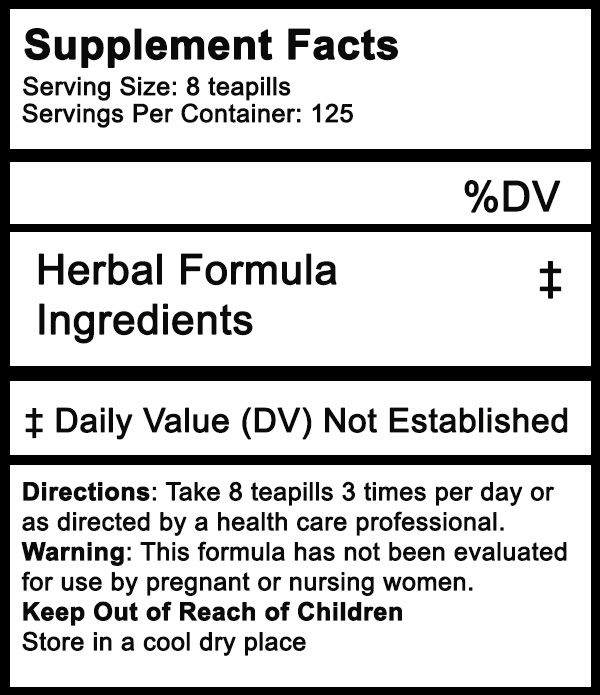 Quantity-4 oz./114 gr. - Approximately 1000 teapills
Bottle lasts about 5 weeks
Serving Size: 8 Teapills
Servings Per Container: Approximately 125
Directions: Take 8 teapills 3 times per day or as directed by a healthcare professional.
Other Ingredients: 30% Certified Organic Brown Rice Flour
Keep out of reach of children.
Store in a cool dry place 56-82ºF.
More about tea pills and powders
Warning: This formula has not been evaluated for use in pregnant or nursing women. Contraindicated in pregnancy and for those with bleeding disorders. As always, check with your doctor before starting any new diet, exercise, or supplements program.
This information has not been evaluated by the Food and Drug Administration. This information is not intended to diagnose, treat, cure, or prevent any disease.
Keep out of reach of children.
As always, check with your herbalist, dietitian, or physician before starting any new diet, exercise, or supplements program.
Ancestor Treasure in Powder Form Linked Here
Dai X, Su S, Cai H, Wei D, Yan H, Zheng T, Zhu Z, Shang EX, Guo S, Qian D, Duan JA. Protective Effects of Total Glycoside From Rehmannia glutinosa Leaves on Diabetic Nephropathy via Regulating the Metabolic Profiling and Modulating the TGF-β1 and Wnt/β-Catenin Signaling Pathway. Front Pharmacol. 2018 Sep 11;9:1012. doi: 10.3389/fphar.2018.01012. PMID: 30271343; PMCID: PMC6143134.
Zhang R., Zhao Y., Sun Y., Lu X., Yang X. (2013). Isolation, characterization, and hepatoprotective effects of the raffinose family oligosaccharides from Rehmannia glutinosa Libosch. J. Agric. Food Chem. 61 7786–7793. 10.1021/jf4018492
Zhang Z., Meng Y., Guo Y., He X., Liu Q., Wang X., et al. (2013). Rehmannia glutinosa polysaccharide induces maturation of murine bone marrow derived Dendritic cells (BMDCs). Int. J. Biol. Macromol. 54 136–143. 10.1016/j.ijbiomac.2012.12.005
Nagulapalli Venkata KC, Swaroop A, Bagchi D, Bishayee A. A small plant with big benefits: Fenugreek (Trigonella foenum-graecum Linn.) for disease prevention and health promotion. Mol Nutr Food Res. 2017 Jun;61(6). doi: 10.1002/mnfr.201600950. Epub 2017 Apr 27. PMID: 28266134.
Zhang HW, Lin ZX, Tung YS, Kwan TH, Mok CK, Leung C, Chan LS. Cordyceps sinensis (a traditional Chinese medicine) for treating chronic kidney disease. Cochrane Database Syst Rev. 2014 Dec 18;(12):CD008353. doi: 10.1002/14651858.CD008353.pub2. PMID: 25519252.
Zhang J; Tang Q; Zimmerman-Kordmann M; Reutter W; Fan H Activation of B lymphocytes by GLIS, a bioactive proteoglycan from Ganoderma lucidum. Life Sci, 2002, 71, 623–638.
Zhang J; Tang Q; Zhou C; Jia W; Da Silva L; Nguyen LD; Reutter W; Fan H GLIS, a bioactive proteoglycan fraction from Ganoderma lucidum, displays anti-tumour activity by increasing both humoral and cellular immune response. Life Sci, 2010, 87, 628–637.
Sun LX; Lin ZB; Duan XS; Lu J; Ge ZH; Li XJ; Li M; Xing EH; Jia J; Lan TF; Li WD Ganoderma lucidum polysaccharides antagonize the suppression on lymphocytes induced by culture supernatants of B16F10 melanoma cells. J. Pharm. Pharmacol, 2011, 63, 725–735.
Zhang QH; Lin ZB Effect of Ganoderma lucidum polysaccharides B on TNFα and INFγ production and their mRNA expression. J. Beijing Med. Univ, 1999, 31, 179–183.
View All
Close
Warranty Information
We guarantee to ship the product as described. Unopened topical remedies can be returned within 30 days for a refund minus shipping and a 20% restocking fee. We do not accept returns of herb supplements (dog or human powders and teapills) opened or unopened. We cannot know if the self-care remedies that you have chosen are appropriate for you, or if they will produce the desired outcomes, or if you may have a personal allergy/sensitivity to a product. Learn more on our FAQ and policy pages.
View All
Close