Description

Supplement Facts
Active Ingredients:
Crataegus spp. leaf and flower - shan zha cao - certified organic
Leonorus cardiaca herb - yi mu cao - certified organic
Achillea millefolium herb and flower - tu yi zhi hao - certified organic
Scrophularia herb - Xuan Shen - certified organic
Salvia miltiorrhiza root - dan shen - certified organic
Boswellia carterii resin - ru xiang - wildcrafted
Morus alba fruit - sang shen - certified organic
Crataegus spp.a fruit - shan zha - certified organic
Schisandra chinensis fruit - wu wei zi -certified organic
Althaea officinalis root - marshmallow - certified organic
Herbal Teapill General Information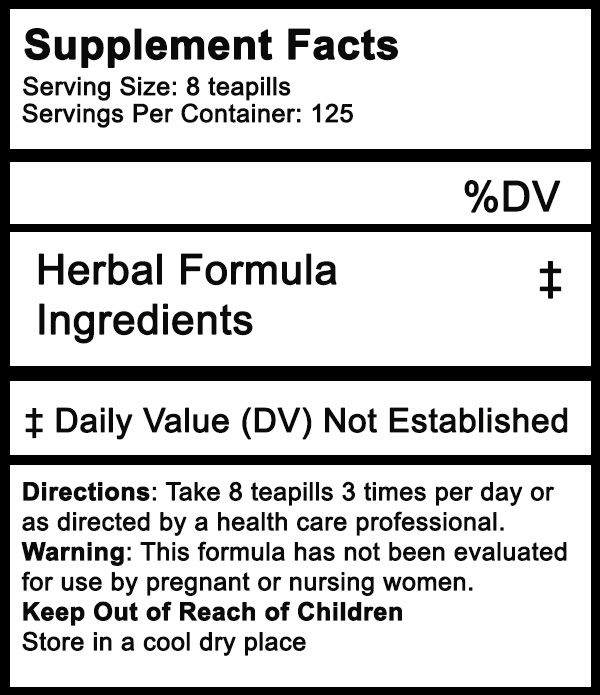 Quantity-4 oz./114 gr. - Approximately 1000 teapills
Bottle lasts about 5 weeks
Serving Size: 8 Teapills
Servings Per Container: 125
Directions: Take 8 teapills 3 times per day or as directed by a health care professional.
Other Ingredients: 30% Certified Organic Brown Rice Flour
Keep out of reach of children.
Store in a cool dry place 56-82ºF.
More about tea pills and powders
Warning: This formula has not been evaluated for use in pregnant or nursing women. Contra-indicated in pregnancy and for those with bleeding disorders. As always, check with your doctor before starting any new diet, exercise, or supplements program.
This information has not been evaluated by the Food and Drug Administration. This information is not intended to diagnose, treat, cure, or prevent any disease.

Formula Break Down
Crataegus monogyna leaf and flower, hawthorn, or shan zha cao is widely used in western herbalism as a Heart Qi tonic.
Leonorus cardiaca herb, motherwort, or yi mu cao derives its' botanical name Leonorus cardiaca from Latin for "lion's heart" because of the traditional western herbal use of motherwort to strengthen the Heart; it also breaks up Heart Blood Stagnation and Heart Qi Constraints with chest compression and possibly palpitations.
Achillea millefolium herb and flower, yarrow, or tu yi zhi hao breaks up Blood Stagnation and improves circulation while relieving Heart Qi constraints causing heart pain, palpitations, and shortness of breath.
Prunella Vulgaris herb, heal all, or xia ku cao dissipates Liver Fire rising to attack the Heart, or to cause hypertension.
Salvia miltiorrhiza root, red sage root, or dan shen breaks up Blood Stagnation and moves Blood. It is traditionally indicated with palpitations, chest pain, and Heart Yin and Blood Deficiency.
Ligustrum lucidum seed, privet fruit, or nu zhen zi nourishes the Yin of the Liver, thus pacifying Liver Heat that attacks the Heart.
Carthamus tinctorius flower, safflower, or hong hua breaks up Blood Stagnation and benefits circulation.
Boswellia carterii resin, frankincense, or ru xiang breaks up Blood Stagnation causing sharp chest pain.
Olea europaea herb, olive leaf, or gan lan cao is used in western herbalism to benefit the Heart as it inhibits inflammation and the oxidation of lipids in the blood.
Crataegus monogyna fruit,

hawthorn berries, shan zha are widely used in western herbalism to build Heart Blood and Qi.

Epimedium koreanum herb, horny goat week, or yin yang huo is a Kidney Yang tonic most often seen in male sexual health formulas, but has more recently been finding its way into longevity herbal formulas and Heart Health formulas. One theory of the benefit in cases of both libido and Heart health is that the herb plays a role in dilation of blood vessels.
Schisandra chinensis fruit, or wu wei zi generates Yin, calms the Shen and addresses palpitations and insomnia due to Reckless Blood of the Heart.
Althaea officinalis root, or marshmallow builds Yin and improves the digestibility of this herbal formula.
Morus alba fruit, whit mulberry, or sang shen builds Blood and is often used for insomnia due to Heart Blood Deficiency.
View All
Close
Warranty Information
We guarantee to deliver the product as described. We cannot know if a certain formula that you choose will agree with you or not, or if you have chosen the most appropriate formula(s). We are unable to accept returns, opened or unopened, for any reason. Learn more about storing herbs on our FAQ;s page. Learn more on our Policy page.
View All
Close