Description

Free and Easy Wanderer - Modified Xiao Yao Wan Plus
Indications: Liver Qi Stagnation, Liver Heat, Qi Stagnation. Free and Easy Wanderer is used to moderate Qi congestion and soothe LV energy according to TCM. To clear Fire Toxins, look to our Peaceful Warrior formula.
Note: Organs mentioned are energetic organ systems according to Chinese medicine, not western medicine.
Related Articles: The symptoms and causes of Liver Qi Stagnation
Free and Easy Wanderer in Powder Form Linked Here

Supplements Facts
Active Ingredients:
Bupleurum chinense root - chai hu - certified organic
Angelica sinensis root - dang gui – certified organic
Paeonia lactiflora alba root - bai shao - certified organic
Silybum marianum seed - nai ji zi - certified organic
Rumex crispus root - suan mo cao - certified organic
Atractylodis Root - Cang Zhu - certified organic
Poria cocos - Fu Ling - certified organic
Mentha spp. herb - bo he - certified organic
Foeniculum vulgare seed - xiao hu xiang - certified organic
Citrus aurantium peel - zhi shi - certified organic
Medicago sativa herb - mu xu cao - certified organic
Althea officinal root - certified organic
Urtica dioica herb - qian ma cao - certified organic
Zingiber officinalis - sheng jiang - fresh organic ginger essential oil

Herbal Teapills General Information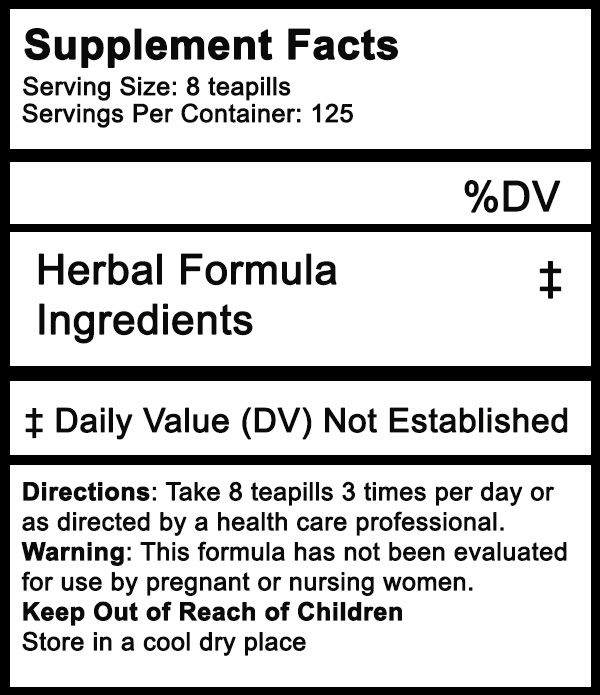 Quantity-4 oz./114 gr. - Approximately 1000 teapills
Bottle lasts about 5 weeks
Serving Size: 8 Teapills
Servings Per Container: 125
Directions: Take 8 teapills 3 times per day or as directed by a health care professional.
Other Ingredients: 30% Certified Organic Brown Rice Flour
Warning: This formula has not been evaluated for use in pregnant or nursing women. Contra-indicated in pregnancy.
Keep Out of Reach of Children.
Store in a cool dry place 56-82ºF.
More about tea pills and powders
This information has not been evaluated by the Food and Drug Administration. This information is not intended to diagnose, treat, cure, or prevent any disease.

Formula Break Down:
Bupleurum chinense root, or chai hu is one of the most popular herbs in Chinese medicine for relieving Liver Qi constraints often accompanied by rib pain or discomfort, easy anger, emotional outbursts, gynecological disorders, sleep problems, or digestive issues. Because the Liver tends to overact and attack other organ systems when it is out of balance, it is often one of the root causes for a large variety of disease patterns.
Paeonia lactiflora root, white peony root, or bai shao is a nourishing herb that softens overactive Liver energy and soothes emotional frustrations. It is especially helpful when the Liver overacts on the Spleen and causes digestive disorders such as IBS, Crohn's, and Diverticulitis as it also supports the Spleen energetic organ system in TCM. As a highly nutritive herb, white peony also builds Blood and preserves Yin.
Silybum marianum seed, milk thistle seed, or nai ji zi is used to reinforce Liver Yin and to protect the liver from toxins. Milk thistle also has a "softening" action on the Liver in metabolic degenerative conditions such as fatty liver, chronic hepatitis, alcoholism that lead to Cirrhosis.
Rumex crispus root, yellow dock root, or suan mo cao is a gentle giant among cooling Liver herbs that work to detoxify the liver and rectify Liver Qi Stagnation. As a single herb, it is invaluable in addressing jaundice, especially in infants and children who cannot tolerate stronger liver detoxing herbs.
Urtica dioica herb, nettle herb, or qian ma cao is a highly nutritious herb with a cool nature that fortifies Liver Yin and Blood.
Foeniculum vulgare seed, fennel seed, or xiao hu xiang is an anise scented herb used in Chinese medicine to regulate the smooth flow of Qi throughout the body, spread congested Liver Qi, and break up Qi Stagnation of the Liver channel which traverses the sexual organs and ribs. This herb also aids in the easy digestion of this formula.
Althaea officinalis root, or marshmallow root nourishes Liver Yin and aids in the absorption of this formula.

Polygonum multiflorum root, fo-ti, or he shou wu helps to build Liver Blood, expels Wind from the skin, and relieves Fire Toxins sometimes resulting in rashes and skin disorders such as psoriasis, eczema, or acne.

Medico sativa herb, alfalfa, or mu xu cao is a cool-neutral herb that is especially nourishing for Liver Yin and contains a multitude of microminerals. Alfalfa leaf protects and softens the Liver while assisting in building Liver Blood.
Citrus aurantium peel, bitter orange, or zhi shi belongs to a special classification of Chinese herbs that regulate the Qi; it not only breaks up Liver Qi Stagnation, but also directs Qi downward. This is especially helpful as the Liver will often create Heat that rises inappropriately when Liver Qi Constraints persist.
Angelica sinensis root, or dang gui nourishes Liver Blood.

"Antioxidant activity and hepatoprotective effect of a polysaccharide from Bei Chaihu (Bupleurum chinense DC)." Zhao W1, Li JJ, Yue SQ, Zhang LY, Dou KF. Carbohydr Polym. 2012 Jun 20;89(2):448-52. doi: 10.1016/j.carbpol.2012.03.027. Epub 2012 Mar 19.
"Silymarin Suppresses Cellular Inflammation By Inducing Reparative Stress Signaling." Lovelace ES, Wagoner J, MacDonald J1, Bammler T1, Bruckner J, Brownell J2, Beyer RP1, Zink EM3, Kim YM3, Kyle JE3, Webb-Robertson BM3, Waters KM3, Metz TO3, Farin F1, Oberlies NH4, Polyak SJ. J Nat Prod. 2015 Jul 17.
"Herbal medicines for fatty liver diseases." Liu ZL1, Xie LZ, Zhu J, Li GQ, Grant SJ, Liu JP. Cochrane Database Syst Rev. 2013 Aug 24;8:CD009059. doi: 10.1002/14651858.CD009059.pub2.
"Hepatoprotective effects of a self-micro emulsifying drug delivery system containing Silybum marianum native seed oil against experimentally induced liver injury." Fehér P, Ujhelyi Z, Vecsernyés M, Fenyvesi F, Damache G, Ardelean A, Costache M, Dinischiotu A, Hermenean A, Bácskay I. Pharmazie. 2015 Apr;70(4):231-8.
"Traditional Chinese medicine for prevention and treatment of hepatocarcinoma: From bench to bedside." Hu B1, Wang SS1, Du Q1. World J Hepatol. 2015 May 28;7(9):1209-32. doi: 10.4254/wjh.v7.i9.1209.
"Polysaccharides from Angelica sinensis alleviate neuronal cell injury caused by oxidative stress." Lei T1, Li H2, Fang Z1, Lin J1, Wang S1, Xiao L2, Yang F2, Liu X2, Zhang J1, Huang Z2, Liao W1. Neural Regen Res. 2014 Feb 1;9(3):260-7. doi: 10.4103/1673-5374.128218.

"Metabolomics research on the hepatoprotective effect of Angelica sinensis polysaccharides through gas chromatography-mass spectrometry." Ji P1, Wei Y2, Sun H1, Xue W1, Hua Y1, Li P1, Zhang W1, Zhang L1, Zhao H1, Li J1. J Chromatogr B Analyt Technol Biomed Life Sci. 2014 Oct 18;973C:45-54. doi: 10.1016/j.jchromb.2014.10.009.
"Recent advances in the herbal treatment of non-alcoholic Fatty liver disease." Xiao J1, Fai So K2, Liong EC3, Tipoe GL4.
"Activation of the anti-tumor effector cells by Radix bupleuri." Kok LD1, Wong CK, Leung KN, Tsang SF, Fung KP, Choy YM. Immunopharmacology. 1995 Jun;30(1):79-87.
View All
Close
Warranty Information
We guarantee to deliver the product as described. We cannot know if a certain formula that you choose will agree with you or not, or if you have chosen the most appropriate formula(s). We are unable to accept returns, opened or unopened, for any reason. Learn more about storing herbs on our FAQ;s page. Learn more on our Policy page.
View All
Close