Description
Free and Easy Wanderer Herbal Supplement
Modified Xiao Yao Wan Plus
Indications:

Supplements Facts
Active Ingredients:
Bupleurum chinense root - chai hu - certified organic
Angelica sinensis root - dang gui – certified organic
Paeonia lactiflora alba root - bai shao - certified organic
Silybum marianum seed - nai ji zi - certified organic
Rumex crispus root - suan mo cao - certified organic
Atractylodis Root - Cang Zhu - certified organic
Poria cocos - Fu Ling - certified organic
Mentha spp. herb - bo he - certified organic
Foeniculum vulgare seed - xiao hu xiang - certified organic
Citrus aurantium peel - zhi shi - certified organic
Medicago sativa herb - mu xu cao - certified organic
Althea officinal root - certified organic
Urtica dioica herb - qian ma cao - certified organic
Zingiber officinalis - sheng jiang - fresh organic ginger essential oil

Herbal Teapills General Information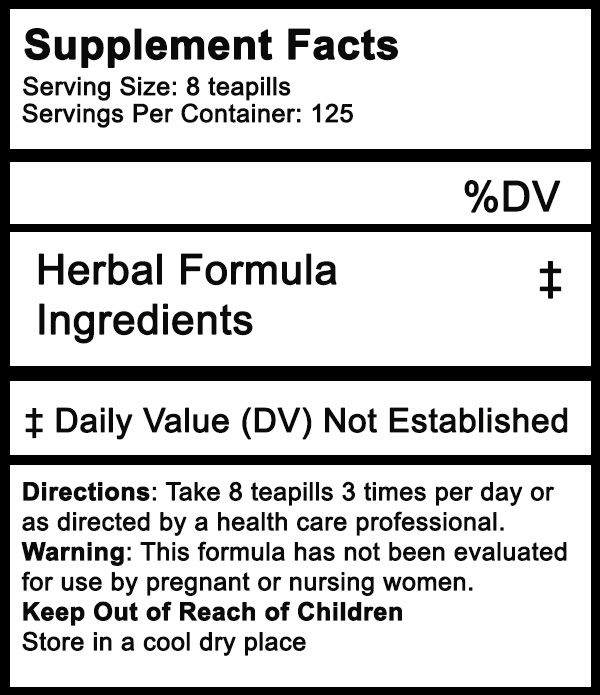 Quantity-4 oz./114 gr. - Approximately 1000 teapills
Bottle lasts about 5 weeks
Serving Size: 8 Teapills
Servings Per Container: Approximately 125
Directions: Take 8 teapills 3 times per day or as directed by a health care professional.
Other Ingredients: 30% Certified Organic Brown Rice Flour
Warning: This formula has not been evaluated for use in pregnant or nursing women. Contra-indicated in pregnancy.
Keep Out of Reach of Children.
Store in a cool dry place 56-82ºF.
More about tea pills and powders
Free and Easy Wanderer in Powder Form Linked Here

Antioxidant activity and hepatoprotective effect of a polysaccharide from Bei Chaihu (Bupleurum chinense DC). Zhao W1, Li JJ, Yue SQ, Zhang LY, Dou KF. Carbohydr Polym. 2012 Jun 20;89(2):448-52. doi: 10.1016/j.carbpol.2012.03.027. Epub 2012 Mar 19.
Silymarin Suppresses Cellular Inflammation By Inducing Reparative Stress Signaling. Lovelace ES, Wagoner J, MacDonald J1, Bammler T1, Bruckner J, Brownell J2, Beyer RP1, Zink EM3, Kim YM3, Kyle JE3, Webb-Robertson BM3, Waters KM3, Metz TO3, Farin F1, Oberlies NH4, Polyak SJ. J Nat Prod. 2015 Jul 17.
Herbal medicines for fatty liver diseases. Liu ZL1, Xie LZ, Zhu J, Li GQ, Grant SJ, Liu JP. Cochrane Database Syst Rev. 2013 Aug 24;8:CD009059. doi: 10.1002/14651858.CD009059.pub2.
Hepatoprotective effects of a self-micro emulsifying drug delivery system containing Silybum marianum native seed oil against experimentally induced liver injury. Fehér P, Ujhelyi Z, Vecsernyés M, Fenyvesi F, Damache G, Ardelean A, Costache M, Dinischiotu A, Hermenean A, Bácskay I. Pharmazie. 2015 Apr;70(4):231-8.
Traditional Chinese medicine for prevention and treatment of hepatocarcinoma: From bench to bedside. Hu B1, Wang SS1, Du Q1. World J Hepatol. 2015 May 28;7(9):1209-32. doi: 10.4254/wjh.v7.i9.1209.
This information has not been evaluated by the Food and Drug Administration. This information is not intended to diagnose, treat, cure, or prevent any disease.
View All
Close
Warranty Information
We guarantee to ship the product as described. Unopened topical remedies can be returned within 30 days for a refund minus shipping and a 20% restocking fee. We do not accept returns of herb supplements (dog or human powders and teapills) opened or unopened. We cannot know if the self-care remedies that you have chosen are appropriate for you, or if they will produce the desired outcomes, or if you may have a personal allergy/sensitivity to a product. Learn more on our FAQ and policy pages.
View All
Close