Description

Spleen Qi Tonic - Gui Pi Tang Modified

Indications: Spleen Qi Deficiency, Internal Dampness.
Note: Organs mentioned are energetic organ systems according to Chinese medicine, not western medicine.
Related Article: Learn about Spleen imbalances in Chinese medicine
Restore the Middle Way in Powder Form Linked Here
Supplements Facts
Active Ingredients:
Codonopsis pilosula root - dang shen - certified organic
Astragalus spp. root - huang qi - certified organic
Atractylodes rhizome - cang zhu - certified organic
Angelica sinensis root - dang gui - certified organic
Inula helenium root - elecampane- certified organic
Crataegus monogyna fruit - shan zha- certified organic
Coicis Seed - Yi Yi Ren- certified Organic
Poria cocos - Fu Ling- certified Organic
Phyllanthus emblica fruit - yu gan zi - certified organic
Althea officinalis - Yao Shu Kui Gen - certified organic
Foeniculum vulgare fruit - xiao hu xiang - certified organic

Herbal Teapill General Information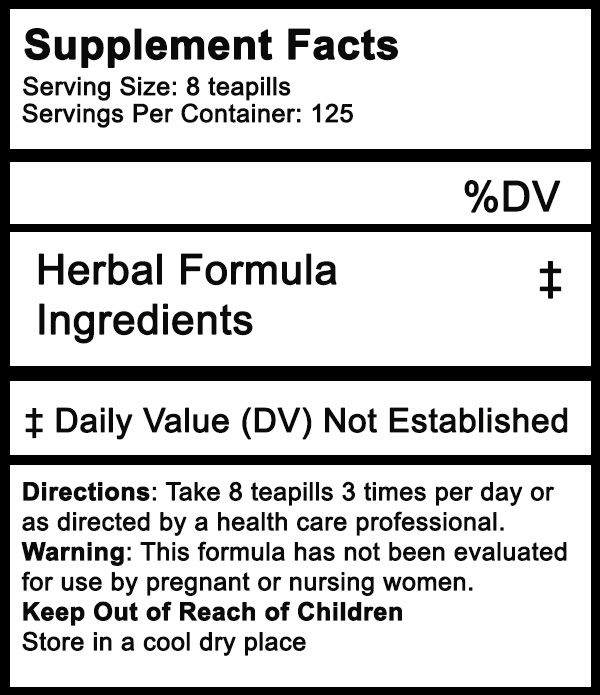 Quantity-4 oz./114 gr. - Approximately 1000 teapills
Bottle lasts about 5 weeks
Serving Size: 8 Teapills
Servings Per Container: 125
Directions: Take 8 teapills 3 times per day or as directed by a health care professional.
Other Ingredients: 30% Certified Organic Brown Rice Flour
Warning: This formula has not been evaluated for use in pregnant or nursing women. Contra-indicated for those with extreme dryness due to Yin Deficient Heat. As always, check with your doctor before starting any new diet, exercise, or supplements program.
This information has not been evaluated by the Food and Drug Administration. This information is not intended to diagnose, treat, cure, or prevent any disease.
Keep Out of Reach of Children.
Store in a cool dry place 56-82ºF.
More about tea pills and powders

Formula Break Down:
Codonopsis pilosula root, or dang shen is an important Spleen Qi tonic herb that benefits the Middle Burner and Lung energetic organ system. It is similar to ginseng, but tends to be better tolerated by most everyone as it is not overstimulating.
Crataegus monogyna fruit, hawthorn berries, or shan zha benefits the Middle Jiao and is used in this formula to increase absorption. It is often employed in western herbalism for improved heart health.
Foeniculum vulgare fruit, fennel seed, or xiao hu xiang. is included in this formula to help harmonize the stomach and render the formula more easily digestible. Fennel seed is traditionally used to improve the appetite and digestion, especially with Deficient or Cold conditions.
Poria cocos, or fu ling is a primary herb for draining Dampness resulting from Spleen Qi Deficiency while also strengthening the Spleen energetic organ system and harmonizing the Middle Burner.

Angelica sinensis root, or dang gui is commonly used for abdominal pain where there is Cold and Deficiency, and helps to build Blood and keep Blood moving freely. Commonly combined with Astragalus for to address slow healing wounds and abscesses, fatigue and debility due to long-term illnesses.

Astragalus spp. root, or huang qi is a highly revered Spleen and Lung Qi tonic used for a wide range of issues related to Spleen Qi Deficiency including stabilizing the Wei Qi and spontaneous sweating, poor appetite, and slow healing as it is said to "generate flesh" making it appropriate for the recovery of chronic illness, trauma, and surgery.
Phyllanthus emblica fruit, yu gan zi, or amla is one of the most important Ayurvedic herbs cool, light and dry qualities that is considered a longevity "rejuvenation remedy" that benefits the all three doshas. In Chinese medicine it has been used more for inflammatory, or throat problems. Most of the preliminary studies have focused on the benefit of amla to the pancreas, which is part of the Spleen energetic system.
Inula helenium root, or elecampane is closely related to xuan fu hua and is one of a handful of true Qi tonics in western herbalism. Elecampane benefits both the Lung and Spleen energetic organ systems with a warming quality that helps to expel Cold, phlegm, and Dampness.
Althaea officinalis root, or marshmallow is a nourishing herb that reinforces the entire digestive tract with soothing demulcent qualities that address inflammation and increase absorption of the formula.

View All
Close
Warranty Information
We guarantee to deliver the product as described. We cannot know if a certain formula that you choose will agree with you or not, or if you have chosen the most appropriate formula(s). We are unable to accept returns, opened or unopened, for any reason. Learn more about storing herbs on our FAQ;s page. Learn more on our Policy page.
View All
Close