Description
Stasis in the Lower Palace Herbal Supplement
Women's Menstrual Normalizer
Indications:

Supplements Facts
Active Ingredients:
Vitex agnus-castus fruit - huang jing zi - certified organic
Paeonia lactiflora alba root - bai shao - certified organic
Paeonia lactiflora red root - chi shao yao - certified organic
Salvia miltiorrhiza root - dan shen - certified organic
Angelica sinensis root - dang gui root - certified organic
Cinnamomum spp. bark - rou gui - certified organic
Foeniculum vulgare fruit - xiao hu xiang - certified organic
Citrus aurantium peel - zhi shi - certified organic
Artemisia vulgaris herb - ai ye - certified organic
Asparagus racemosus root - shatavari - certified organic
Curcuma spp. rhizome - jiang huang - certified organic
Althaea officinalis root - marshmallow - certified organic
Sesamum indicum black seed - Black Sesame seed - certified organic

Herbal Teapill General Information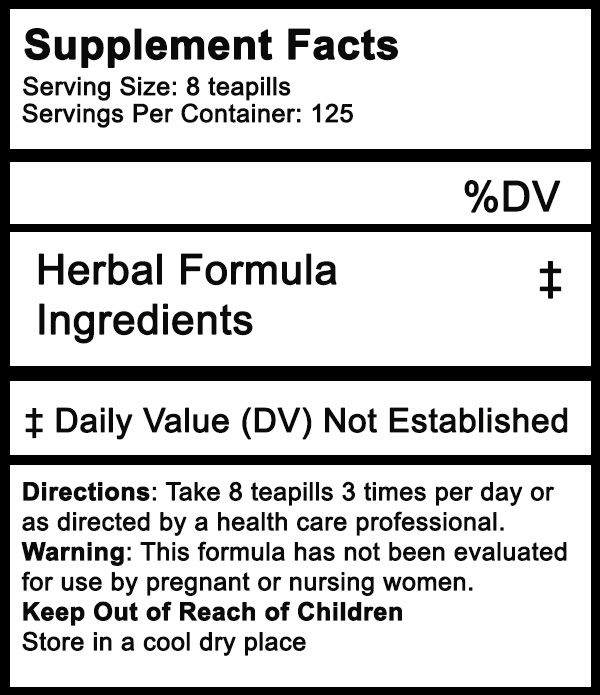 Quantity-4 oz./114 gr. - Approximately 1000 teapills
Bottle lasts about 5 weeks
Serving Size: 8 Teapills
Servings Per Container: Approximately 125
Directions: Take 8 teapills 3 times per day or as directed by a healthcare professional.
Other Ingredients: 30% Certified Organic Brown Rice Flour
Caution: In fertility programs (for those actively trying to conceive and not presently on birth control), this supplement would be taken during the first half of the cycle only as it is contraindicated during pregnancy.
Warning: This formula has not been evaluated for use in pregnant or nursing women. As always, check with your doctor before starting any new diet, exercise, or supplements program.
Keep Out of Reach of Children.
Store in a cool dry place 56-82ºF.
More about tea pills and powders
Stasis in the Lower Palace in Powder Form Linked Here

Zhu S, Yu X, Wu Y, Shiraishi F, Kawahara N, Komatsu K. Genetic and chemical characterization of white and red peony root derived from Paeonia lactiflora. J Nat Med. 2015 Jan;69(1):35-45. doi: 10.1007/s11418-014-0857-5. Epub 2014 Aug 24. PMID: 25151277; PMCID: PMC4703622.
Nargund G, Doyle PE, Bourne TH, Parsons JH, Cheng WC, Campbell S, Collins WP. Ultrasound derived indices of follicular blood flow before HCG administration and the prediction of oocyte recovery and preimplantation embryo quality. Hum Reprod. 1996;11(11):2512–2517. doi: 10.1093/oxfordjournals.humrep.a019150.
Ong M, Cheng J, Jin X, Lao W, Johnson M, Tan Y, Qu X. Paeoniflorin extract reverses dexamethasone-induced testosterone over-secretion through downregulation of cytochrome P450 17A1 expression in primary murine theca cells. J Ethnopharmacol. 2019;229:97–103. doi: 10.1016/j.jep.2018.09.006.
Luciano AM, Franciosi F, Dieci C, Lodde V. Changes in large-scale chromatin structure and function during oogenesis: a journey in company with follicular cells. Anim Reprod Sci. 2014;149(1-2):3–10. doi: 10.1016/j.anireprosci.2014.06.026.
May-Panloup P, Boucret L, Chao de la Barca JM, Desquiret-Dumas V, Ferré-L'Hotellier V, Morinière C, Descamps P, Procaccio V, Reynier P. Ovarian ageing: the role of mitochondria in oocytes and follicles. Hum Reprod Update. 2016;22(6):725–743. doi: 10.1093/humupd/dmw028.
This information has not been evaluated by the Food and Drug Administration. This information is not intended to diagnose, treat, cure, or prevent any disease.
View All
Close
Warranty Information
We guarantee to ship the product as described. Unopened topical remedies can be returned within 30 days for a refund minus shipping and a 20% restocking fee. We do not accept returns of herb supplements (dog or human powders and teapills) opened or unopened. We cannot know if the self-care remedies that you have chosen are appropriate for you, or if they will produce the desired outcomes, or if you may have a personal allergy/sensitivity to a product. Learn more on our FAQ and policy pages.
View All
Close