Description

White Tiger Return - Ageless Herbs Lung Qi Tonic - Breathing Support

Indications: Lung Qi Deficiency, Chronic breathing Dampness issues, Dryness.
Related Articles: Learn about smoking cessation and repair
Note: Organs mentioned are energetic organ systems according to TCM, not western medicine.
White Tiger Return in Powder Form Linked Here

Supplements Facts
Active Ingredients:
Cordyceps sinensis fungi - dong chong xia cao - certified organic
Codonopsis pilosula root - dang shen - certified organic
Schisandra chinensis fruit - wu wei zi - certified organic
Tussilago farfara herb - kuan dong cao - certified organic
Trigonella foenum seed - hu lu ba - certified organic
Inula helenium root - elecampane - certified organic
Oreganum species herb - niu zhi - certified organic
Thymus vulgaris herb - bai li xiang - certified organic
Althaea officinalis root - marshmallow - certified organic
Verbascum thapsis herb - mullein - certified organic
Citrus aurantium peel - zhi shi - certified organic
Nigella sativa seed - Black Seed - certified organic
Foeniculum vulgare fruit - xiao hu xiang - certified organic
Pimpinella anisum seed - da hui xiang zi - certified organic

Herbal Teapill General Information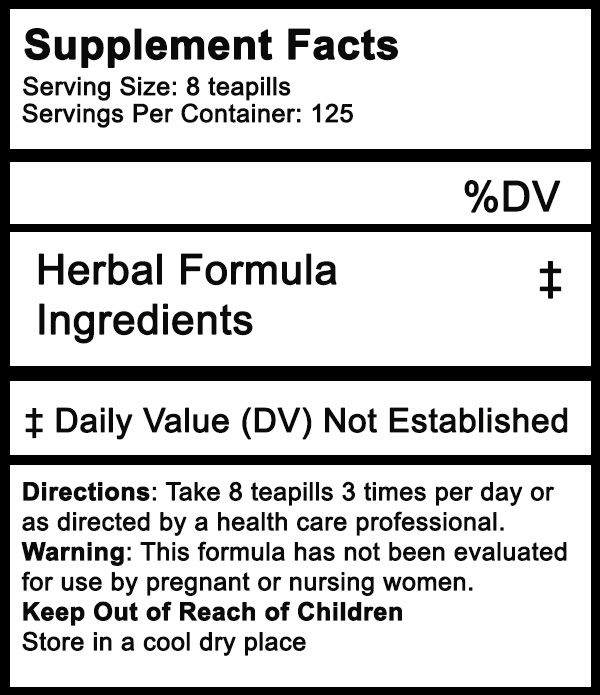 Quantity-4 oz./114 gr. - Approximately 1000 teapills
Bottle lasts about 5 weeks
Serving Size: 8 Teapills
Servings Per Container: 125
Directions: Take 8 teapills 3 times per day or as directed by a healthcare professional.
Other Ingredients: 30% Certified Organic Brown Rice Flour
Warning: This formula has not been evaluated for use in pregnant or nursing women. As always, check with your doctor before starting any new diet, exercise, or supplements program.
This information has not been evaluated by the Food and Drug Administration. This information is not intended to diagnose, treat, cure, or prevent any disease.
Keep Out of Reach of Children.
Store in a cool dry place 56-82ºF.
More about tea pills and powders

Formula Break Down:
Inula helenium root, or elecampane is one of the few SpleenQi and Lung Qi tonic herbs that is native to the United States used to restore Lung health and rebuild vitality.

Codonopsis pilosula root, or dang shen is a Qi tonic herb used to restore vitality and benefit the Lungs.

Oreganum species herb, or niu zhi, or oregano leaf is a common spice that has recently gained popularity for its ability to clear fungal infections and bacteria from the body. Oregano benefits the Lungs and reduces phlegm when present. The Lung energetic organ system responds well to aromatic herbal remedies.

Trigonella foenum seed, hu lu ba, or fenugreek seed is a Kidney tonic herb in Chinese medicine, but is often used as a Lung support herb in western herbal medicine. This is an especially helpful herb for those who have trouble inhaling, as the Kidney energy actually "grasps the Qi" when we breath according to TCM.

Schisandra chinensis fruit, or wu wei zi is used in Chinese medicine for chronic coughing and wheezing due to deficiencies of the Lungs and Kidneys.

Tussilago farfara herb, kuan dong cao, or coltsfoot leaf and flower is an excellent Lung herb that has astringing qualities helping to control phlegm, and stops coughing and wheezing by redirecting Qi downward and restoring harmony.

Thymus vulgaris herb, bai li xiang, or thyme leaf is a common aromatic kitchen spice that benefits the Lungs.

Althaea officinalis root, or marshmallow root is a demulcent herb that aids with all types of coughs, but especially dry coughs and breathing difficulties due to dryness.

Salvia officinalis herb, sheng cao, or sage leaf is another aromatic astringing herb that is drying for excessive phlegm, and is healing to tissue due to its astringent qualities.

Verbascum thapsis herb, or mullein leaf is a common western Lung tonic herb that has both astringent and demulcent qualities, benefiting the Lungs and stopping coughing and wheezing due to both Dry and Damp conditions.

Citrus aurantium peel, zhi shi, or bitter orange is used to help direct the Qi in the correct direction as coughing is seen as Rebellious Qi according to TCM.

Foeniculum vulgare fruit - xiao hu xiang, or fennel seed aids in the digestibility of this Lung Health formula.

Pimpinella anisum seed - da hui xiang zi - certified organic

Olea europaea herb, gan lan cao, or olive leaf has risen in popularity of resent as a general wellness herb, and it benefits the Lungs.

"Cordycepin alleviates airway hyperreactivity in a murine model of asthma by attenuating the inflammatory process." Yang X1, Li Y1, He Y1, Li T1, Wang W2, Zhang J3, Wei J4, Deng Y5, Lin R6. Int Immunopharmacol. 2015 Jun;26(2):401-8. doi: 10.1016/j.intimp.2015.04.017. Epub 2015 Apr
22.
"Antioxidant and anti-inflammatory effects of Schisandra and Paeonia extracts in the treatment of asthma." Chen X1, Huang Y1, Feng J1, Jiang XF1, Xiao WF1, Chen XX1. Exp Ther Med. 2014 Nov;8(5):1479-1483. Epub 2014 Sep 4.
"What's in a Name? Can Mullein Weed Beat TB Where Modern Drugs Are Failing?" McCarthy E1, O'Mahony JM. Evid Based Complement Alternat Med. 2011;2011. pii: 239237. doi: 10.1155/2011/239237. Epub
2010 Sep 19.
"Immunomodulatory and anti-inflammatory action of Nigella sativa and thymoquinone: A comprehensive review." Majdalawieh AF1, Fayyad MW2. Int Immunopharmacol. 2015 Jun 25;28(1):295-304. doi: 10.1016/j.intimp.2015.06.023.
"Cordyceps sinensis increases hypoxia tolerance by inducing heme oxygenase-1 and metallothionein via Nrf2 activation in human lung epithelial cells." Singh M1, Tulsawani R, Koganti P, Chauhan A, Manickam M, Misra K. Biomed Res Int. 2013;2013:569206. doi: 10.1155/2013/569206. Epub 2013 Aug 26.
"The anti-inflammatory effect of tussilagone, from Tussilago farfara, is mediated by the induction of heme oxygenase-1 in murine macrophages." Hwangbo C1, Lee HS, Park J, Choe J, Lee JH. Int Immunopharmacol. 2009 Dec;9(13-14):1578-84. doi: 10.1016/j.intimp.2009.09.016. Epub 2009 Oct 1.
"Antiasthmatic effect of Nigella sativa in airways of asthmatic patients." Boskabady MH1, Mohsenpoor N, Takaloo L. Phytomedicine. 2010 Aug;17(10):707-13. doi: 10.1016/j.phymed.2010.01.002. Epub 2010 Feb 10.
"Protective Effect of Total Phenolic Compounds from Inula helenium on Hydrogen Peroxide-induced Oxidative Stress in SH-SY5Y Cells." Wang J1, Zhao YM1, Zhang B2, Guo CY1. Indian J Pharm Sci. 2015 Mar-Apr;77(2):163-9.
"Schisandra polysaccharide evokes immunomodulatory activity through TLR 4-mediated activation of macrophages." Zhao T1, Feng Y2, Li J3, Mao R4, Zou Y5, Feng W5, Zheng D5, Wang W5, Chen Y6, Yang L7, Wu X8. Int J Biol Macromol. 2014 Apr;65:33-40. doi: 10.1016/j.ijbiomac.2014.01.018. Epub 2014 Jan 10.
View All
Close
Warranty Information
We guarantee to deliver the product as described. We cannot know if a certain formula that you choose will agree with you or not, or if you have chosen the most appropriate formula(s). We are unable to accept returns, opened or unopened, for any reason. Learn more about storing herbs on our FAQ;s page. Learn more on our Policy page.
View All
Close