Description
White Tiger Return Herbal Supplement
Respiratory Support



Indications:


Supplements Facts
Active Ingredients:
Cordyceps sinensis fungi - dong chong xia cao - certified organic
Codonopsis pilosula root - dang shen - certified organic
Schisandra chinensis fruit - wu wei zi - certified organic
Tussilago farfara herb - kuan dong cao - certified organic
Trigonella foenum seed - hu lu ba - certified organic
Inula helenium root - elecampane - certified organic
Oreganum species herb - niu zhi - certified organic
Thymus vulgaris herb - bai li xiang - certified organic
Althaea officinalis root - marshmallow - certified organic
Verbascum thapsis herb - mullein - certified organic
Citrus aurantium peel - zhi shi - certified organic
Nigella sativa seed - Black Seed - certified organic
Foeniculum vulgare fruit - xiao hu xiang - certified organic
Pimpinella anisum seed - da hui xiang zi - certified organic

Herbal Teapill General Information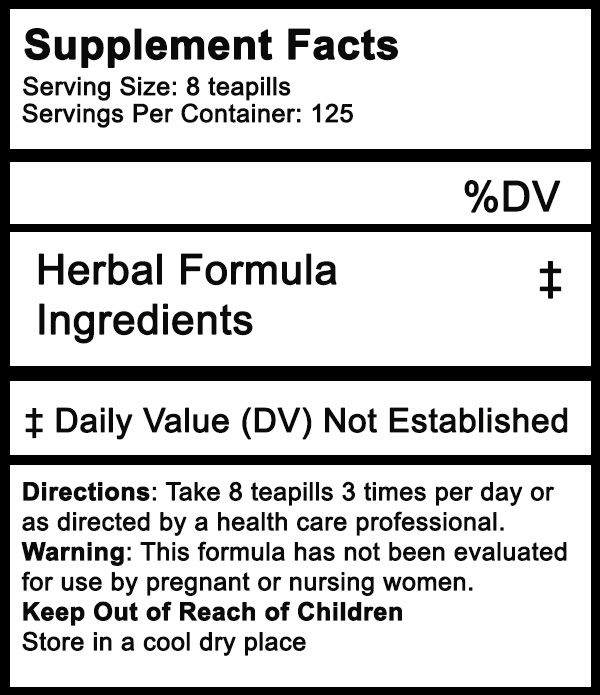 Quantity-4 oz./114 gr. - Approximately 1000 teapills
Bottle lasts about 5 weeks
Serving Size: 8 Teapills
Servings Per Container: Approximately 125
Directions: Take 8 teapills 3 times per day or as directed by a healthcare professional.
Other Ingredients: 30% Certified Organic Brown Rice Flour
May contain food allergens: those with food allergies or food/herb intolerances should not procure Ageless Herbs® products. Processed in a facility that also processes one or more of these substances: peanuts, soy, wheat, sesame seeds, tree nuts or other possible allergens.
Contra-indicated for pregnant or nursing women, infants, and children under 12 years

Store in a cool dry place 56-82ºF

Keep out of reach of children and pets
More about tea pills and powders
Warning: As always, check with your doctor before starting any new diet, exercise, or supplements program.
White Tiger Return in Powder Form Linked Here

This information has not been evaluated by the Food and Drug Administration. This information is not intended to diagnose, treat, cure, or prevent any disease.
View All
Close
Warranty Information
We guarantee to ship the product as described. Unopened topical remedies can be returned within 30 days for a refund minus shipping and a 20% restocking fee. We do not accept returns of herb supplements (dog or human powders and teapills) opened or unopened. We cannot know if the self-care remedies that you have chosen are appropriate for you, or if they will produce the desired outcomes, or if you may have a personal allergy/sensitivity to a product. Learn more on our FAQ and policy pages.
View All
Close