Description
Yin Tonic - Modified Lui Di Huang Wan - Six Ingredient Pill with Rehmannia
Indications: Kidney Yin Deficiency, Blood Deficiency; Yin represents substance, blood and tissue in the body and can be consumed by prolonged stress.
Related Article: Learn the symptoms of Kidney Yin Deficiency
Note: Organs mentioned are energetic organ systems according to TCM, not western medicine.

Supplements Facts
Active Ingredients:
Rehmannia glutinosa prepared root - shu di huang- certified organic
Dioscorea opposita - Shan Yao - certified organic
Poria cocos - Fu Ling - certified organic
Plantago asiatica - Che Qian Cao - certified organic
Schisandra chinensis fruit - wu wei zi - certified organic
Polygonum multiflorum root - he shou wu - certified organic
Paeonia lactiflora root - bai shao - white peony - certified organic
Scrophularia spp. herb - xuan shen - certified organic
Lycium chinense fruit - gou qi zi - certified organic
Sesame indicum seed - hei zhi ma - certified organic
Althaea officinalis root - marshmallow - certified organic

Herbal Powder General Information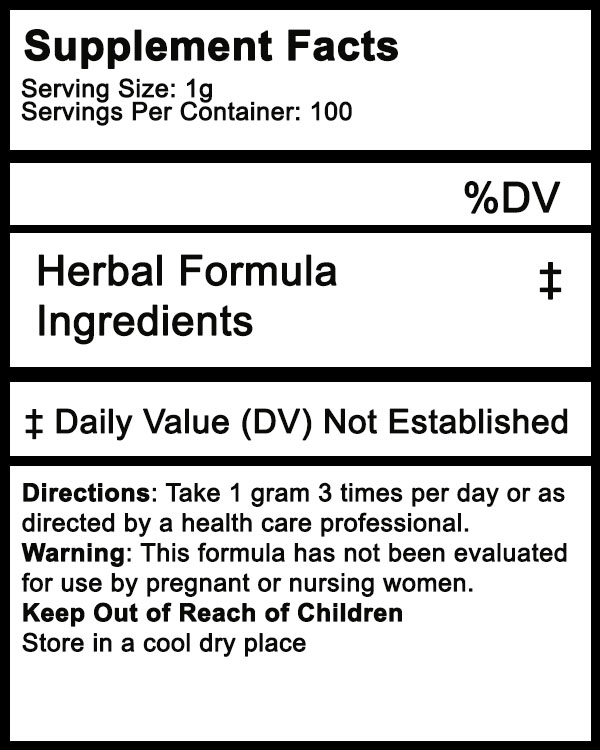 Quantity-100 Grams
Serving Size:1 gram
Servings Per Container: 100
Bottle lasts about a month
Directions: Take 1 gram 3X per day or as directed by a health care professional. Please note that 1 gram is generally a bit less than 1/4 teaspoon for most formulas, however, the only true way to measure a gram is by weight.
Other Ingredients: None
Warning: This formula has not been evaluated for use in pregnant or nursing women. As always, check with your doctor before starting any new diet, exercise, or supplements program.
Keep Out of Reach of Children.
Store in a cool dry place 56-82ºF
This information has not been evaluated by the Food and Drug Administration. This information is not intended to diagnose, treat, cure, or prevent any disease.
More about tea pills and powders

View All
Close
Warranty Information
We guarantee to deliver the product as described. We cannot know if a certain formula that you choose will agree with you or not, or if you have chosen the most appropriate formula(s). We are unable to accept returns, opened or unopened, for any reason. Learn more about storing herbs on our FAQ;s page. Learn more on our Policy page.
View All
Close