Description
Yin Tonic Herbal Supplement
Modified Lui Di Huang Wan modified - Six Ingredient formula with Rehmannia



Indications:

Supplements Facts
Active Ingredients:
Rehmannia glutinosa prepared root - shu di huang- certified organic
Dioscorea opposita - Shan Yao - certified organic
Poria cocos - Fu Ling - certified organic
Plantago asiatica - Che Qian Cao - certified organic
Schisandra chinensis fruit - wu wei zi - certified organic
Polygonum multiflorum root - he shou wu - prepared (cured) fo ti - certified organic
Paeonia lactiflora root - bai shao - white peony - certified organic
Scrophularia spp. herb - xuan shen - certified organic
Lycium chinense fruit - gou qi zi - certified organic
Sesame indicum seed - hei zhi ma - certified organic
Althaea officinalis root - marshmallow - certified organic

Herbal Teapill General Information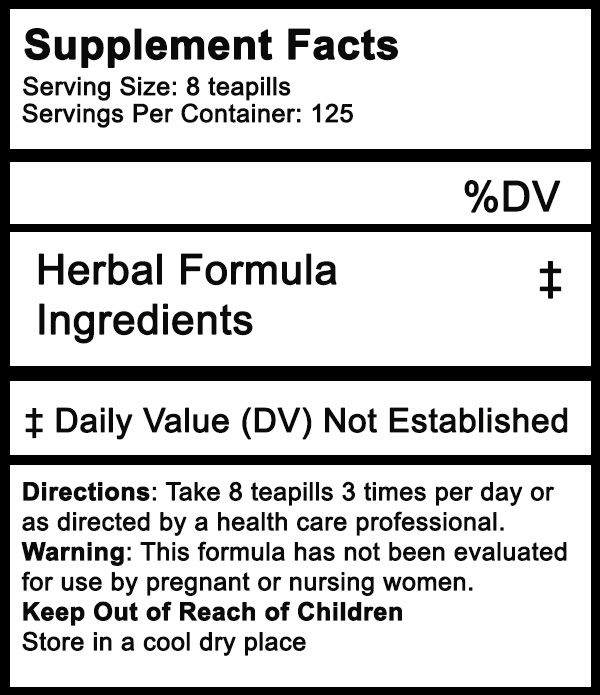 Quantity-4 oz./114 gr. - Approximately 1000 teapills
Bottle lasts about 5 weeks
Serving Size: 8 Teapills
Servings Per Container: Approximately 125
Directions: Take 8 teapills 3 times per day or as directed by a healthcare professional.
Other Ingredients: 30% Certified Organic Brown Rice Flour
Warning: This formula has not been evaluated for use in pregnant or nursing women.
Keep Out of Reach of Children.
Store in a cool dry place 56-82ºF.
More about tea pills and powders
Yin Valley in Powder Form Linked Here

Effects of the Chinese Herbal Formulation (Liu Wei Di Huang Wan) on the Pharmacokinetics of Isoflavones in Postmenopausal Women, Wirin Limopasmanee, Sunee Chansakaow, Noppamas Rojanasthien, Maleeya Manorot, Chaichan Sangdee, and Supanimit Teekachunhatean, BioMed Research International, vol. 2015, Article ID 902702, 8 pages, 2015. doi:10.1155/2015/902702
Metabolomics study of hematopoietic function of Angelica sinensis on blood deficiency Li PL1, Sun HG1, Hua YL1, Ji P1, Zhang L1, Li JX1, Wei Y2.J Ethnopharmacol. 2015 May 26;166:261-9. doi: 10.1016/j.jep.2015.03.010. Epub 2015 Mar 20.
The effects of Liuwei Dihuang on canonical Wnt/β-catenin signaling pathway in osteoporosis. Xia B1, Xu B2, Sun Y2, Xiao L3, Pan J3, Jin H4, Tong P5. J Ethnopharmacol. 2014 Apr 11;153(1):133-41. doi: 10.1016/j.jep.2014.01.040. Epub 2014 Feb 12.
Comparative pharmacokinetics of catalpol and acteoside in normal and chronic kidney disease rats after oral administration of Rehmannia glutinosa extract. Zhao M1, Qian D1, Liu P1, Shang EX1, Jiang S1, Guo J1, Su SL1, Duan JA1, Du L1, Tao J1. Biomed Chromatogr. 2015 May 29. doi: 10.1002/bmc.3505.
Hot water extracted Lycium barbarum and Rehmannia glutinosa inhibit liver inflammation and fibrosis. Wu PS1, Wu SJ, Tsai YH, Lin YH, Chao JC. Am J Chin Med. 2011;39(6):1173-91.
This information has not been evaluated by the Food and Drug Administration. This information is not intended to diagnose, treat, cure, or prevent any disease.
View All
Close
Warranty Information
We guarantee to ship the product as described. Unopened topical remedies can be returned within 30 days for a refund minus shipping and a 20% restocking fee. We do not accept returns of herb supplements (dog or human powders and teapills) opened or unopened. We cannot know if the self-care remedies that you have chosen are appropriate for you, or if they will produce the desired outcomes, or if you may have a personal allergy/sensitivity to a product. Learn more on our FAQ and policy pages.
View All
Close