Description
91% Organic! 2.65 oz./75 gr.
Indications: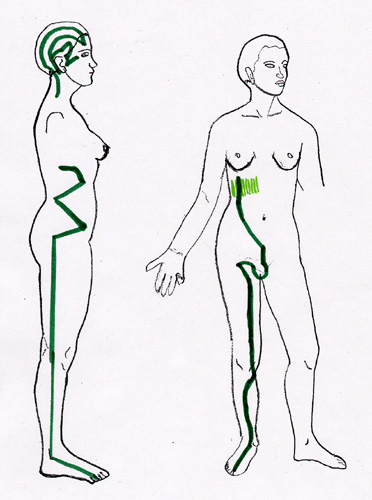 Blood and Qi Stagnation of the Gallbladder Channel

Wood Element Imbalance
This natural herbal therapeutic dit da jow is used for sciatic aches and strains located in the buttock/hip area, possibly with discomfort or tightness radiating down the outside of the leg to the outside of the foot. The acupuncture meridian that traverses this very specific area is called the Gallbladder acupuncture channel. This cream contains botanicals that specifically increase the flow of Qi, thus eliminating pain, along the Gallbladder channel.
Related Articles:
Directions for use: Apply this formula 2-3 times per day to the areas of pain.
Ingredients:
Store in a cool place out of direct sunlight.
Cautions:
For external use only

Keep out of reach of children

Contra-indicated for pregnant or nursing women and infants

Can stain fabrics/surfaces

Contra-indicated for those on blood thinning medication or who have a bleeding disorder
This information has not been evaluated by the Food and Drug Administration. This information is not intended to diagnose, treat, cure, or prevent any disease.
View All
Close
Warranty Information
We guarantee to ship the product as described. Unopened topical remedies can be returned within 30 days for a refund minus shipping and a 20% restocking fee. We do not accept returns of herb supplements (dog or human powders and teapills) opened or unopened. We cannot know if the self-care remedies that you have chosen are appropriate for you, or if they will produce the desired outcomes, or if you may have a personal allergy/sensitivity to a product. Learn more on our FAQ and policy pages.
View All
Close