Description
2 oz. | 60 ML
Indications: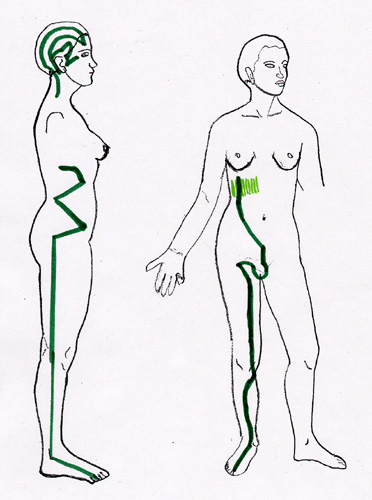 Blood and Qi Stagnation of the Gallbladder Channel

Wood Element Imbalance
This natural herbal therapeutic dit da jow is used for sciatic aches and strains located in the buttock/hip area, possibly with discomfort or tightness radiating down the outside of the leg to the outside of the foot. The acupuncture meridian that traverses this very specific area is called the Gallbladder acupuncture channel. This cream contains botanicals that specifically increase the flow of Qi, thus eliminating pain, along the Gallbladder channel.
Related Articles:
Directions for Use: Shake before use. Apply to affected area 1-3 x per day.
Ingredients:
Aqueous/Alcohol Infusion w/ Polysorbate 20:
| | | |
| --- | --- | --- |
| Mentha piperita | Bo He | Menthol Crystals |
| Lavandula | Yun Yin Cao You | Lavender Flower Essential Oil |
| Gaultheria procumbens | Dong Lu You | Wintergreen essential oil |
| Cinnamomum camphora | Zhang Nao You | Camphor essential oil |
| Citrus × sinensis | Cheng Pi You | Orange Essential Oil |
| Citrus Tangerina | Gan Ju You | Tangerine Essential Oil |
| Citrus Tangerina Immatura | Chen Pi You | Green Mandarin Essential Oil |
| Commiphora Myrrha | Mo Yao You | Myrrh Gum Essential Oil |
| Berberis vulgaris | San Ke Zhen | Barberry |
| Coptidis | Huang Lian | Coptis Root |
| Cyperi | Xiang Fu | Nut Grass Root |
| Rhei | Da Huang | Rhubarb root |
| Gardeniae Jasminoidis | Zhi Zhi | Gardenia Flower |
| Liquidambar formosana | Lu Lu Tong | Sweet Gum Fruit |
| Peaoneae Rubra | Chi Shao | Red Peony Root |
| Salvia Milttiorrhiza | Dan Shen | Red Sage Root |
| Vaccariae Segetalis | Wang Bu Liu Xing | Vaccaria Seeds |
| Mouton | Mu Dan Pi | Tree Peony Root Bark |
| Saposhnikoviae Divaricata | Fang Feng | Fang Feng Root |
| Salix | Bai Liu Shu Pi | Willow Bark |
| Morus Alba | Sang Zhi | Mulbery Twig |
| Cimicifuga Racemosa | Sheng Ma | Black Cohosh Root |
| Commiphora Myrrha | Mo Yao | Myrrh Gum |
| Achillea Millefolium | Tu Yi Zhi Hao | Yarrow Leaf and Flower |
| Persica | Tao Ren | Peach Seeds |
May contain food allergens: those with food allergies or food/herb intolerances should not procure Ageless Herbs® products. Processed in a facility that also processes one or more of these substances: peanuts, soy, wheat, sesame seeds, tree nuts or other possible allergens.
For external use only

Contra-indicated for those with sensitives to herbs and essential oils, or those with very sensitive skin and related reactions

Contra-indicated for pregnant or nursing women, infants, and children under 12 years

Store in a cool dry place 56-82ºF

Keep out of reach of children and pets

Can stain fabrics/surfaces

Avoid contact with eyes
Contra-indicated for those on blood thinning medication or who have a bleeding disorder
This information has not been evaluated by the Food and Drug Administration. This information is not intended to diagnose, treat, cure, or prevent any disease.
View All
Close
Warranty Information
We guarantee to ship the product as described. Unopened topical remedies can be returned within 30 days for a refund minus shipping and a 20% restocking fee. We do not accept returns of herb supplements (dog or human powders and teapills) opened or unopened. We cannot know if the self-care remedies that you have chosen are appropriate for you, or if they will produce the desired outcomes, or if you may have a personal allergy/sensitivity to a product. Learn more on our FAQ and policy pages.
View All
Close