Description
91% Organic! 2.65 oz./75 gr.
Indications: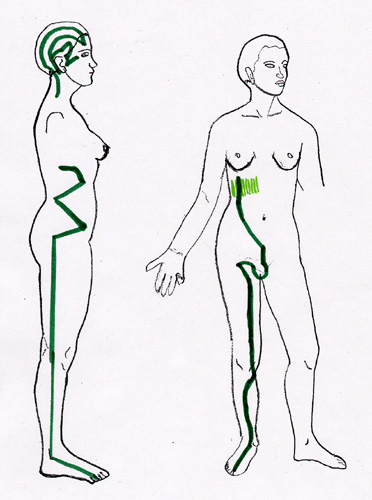 Blood and Qi Stagnation of the Gallbladder Channel

Wood Element Imbalance
This natural herbal therapeutic plaster is used for sciatic aches and strains located in the buttock/hip area, possibly with discomfort or tightness radiating down the outside of the leg to the outside of the foot. The acupuncture meridian that traverses this very specific area is called the Gallbladder acupuncture channel. This cream contains botanicals that specifically increase the flow of Qi, thus eliminating pain, along the Gallbladder channel.
Related Articles:
Directions for use: Apply this formula 3-5 times per day to the areas of pain.
Ingredients: Gan Lan You-Olea Europaea (Organic Extra Virgin Olive Oil), Euphorbia/Pedilanthus spp. (Candelilla Wax), Du Zhong-Eucommiae (Rubber Tree Bark), Gaultheria procumbens (Wintergreen essential oil), Tao Ren-Persica (Peach Seeds), Zhi Zhi-Gardeniae Jasminoidis (Gardenia), Shang Lu-Phytolacca Americana (Poke Root), Da Huang-Reheum Palmatum (Rhubarb Root), Gou Teng-Uncaria Rhychophylla (Cat's Claw Vine), Mu Xiang-Vladimiria (Aucklandia), Suan Mo Gen-Rumex crispus (Yellow Dock Root), Pu Gong Ying-Taraxacum officinale (Dandelion Root), Qin Jiao-Gentinana Lutea (Gentian Root), Xiao Hu Xiang-Foeniculum vulgare (Fennel Seed), Zhi Shi-Citrus aurantium (Bitter Orange), Bai Shao-Paeonia lactiflora (White Peony Root), Chai Hu-Bupleurum chinense (Bupleurum Root), Althaea officinalis (Marshmallow Root), Organic Jiang Huang-Curcuma (Turmeric Root), Organic Dan Shen-Salvia milttiorrhiza (Red Sage Root), Mo Yao-Commiphora Myrrha (Myrrh Gum), Organic Hong Hua-Carthamus tinctorius (Safflower Flower), Organic Chi Shao-Peaoneae Rubra (Red Peony Root), Organic Dang Gui-Angelica sinensis (Dong Quai Root), Organic Tu Yi Zhi Hao-Achillea Millefolium (Yarrow Leaf and Flower), Organic Sheng Ma- Cimicifuga Racemosa (Black Cohosh Root), Ru Xiang-Boswellia Carterii Resin(Frankincense Resin), Organic Zhi Shi- Citrus Aurantium peel (Bitter Orange), Organic Xiao Hu Xiang- Foeniculum Vulgare Seed (Fennel Seed), Organic Althaea Bo He-Mentha spp. (Menthol Crystals), Chen Pi You-Citrus Tangerina (Green Mandarin Essential Oil), Cheng Pi You-Citrus aurantium (Sweet orange essential oil), Officinalis(Marshmallow Root)
Store in a cool place out of direct sunlight.
Cautions:
For external use only

Keep out of reach of children

Contra-indicated for pregnant or nursing women and infants

Can stain fabrics/surfaces

Contra-indicated for those on blood thinning medication or who have a bleeding disorder
This information has not been evaluated by the Food and Drug Administration. This information is not intended to diagnose, treat, cure, or prevent any disease.
View All
Close
Warranty Information
We guarantee to deliver the product as described. We cannot know if a certain formula that you choose will agree with you or not, or if you have chosen the most appropriate formula(s). We will accept returns of unopened TCM Topical products for 15 days after purchase with a full refund. Learn more about storing herbs on our FAQ;s page. Learn more on our Policy page.
View All
Close