Description

Sage Mountain - Ageless Herbs Wellness Tonic

Indications: Spleen-Kidney-Lung-Heart Deficiency; Wei Qi insufficiency, Blood Deficiency.
Related Articles: Learn how these most dignified Chinese Tonic Herbs sustain wellness, promote longevity, and support all major Organ Systems according to Chinese medicine and how this classification of herbs called Tonics, or "Superior Herbs", have been used to promote a long, healthy, vibrant life for thousands of years. Chinese Tonic Herbs are taken over a longer period of time than "General Herbs" that are used for acute conditions. This formulas supports the Three Treasures (Shen, Qi, and Jing).
Note: Sage Mountain is used both for healthy aging, and for failure to thrive in the young
Note: Organs mentioned are energetic organ systems according to TCM, not western medicine.
Sage Mountain in Powder Form Linked Here

Supplements Facts
Active Ingredients:
Ganoderma lucidum fungus - ling zhi - certified organic
Codonopsis pilosula root - dang shen - certified organic
Polygonum multiflorum root - he shou wu - prepared (cured) fo ti - certified organic
Morus albus fruit - sang shen - certified organic
Schisandra chinensis fruit - wu wei zi frui t- certified organic
Astragalus spp. root - huang qi - certified organic
Ocimum tenuiflorum herb - sheng zi su - certified organic
Rehmannia glutinosa - shu di huang prepared root - certified organic
Bacopa monnieri herb - brahmi - certified organic
Olea europaea herb - gan lan shu cao - certified organic
Althaea officinalis root - marshmallow - certified organic

Herbal Teapill General Information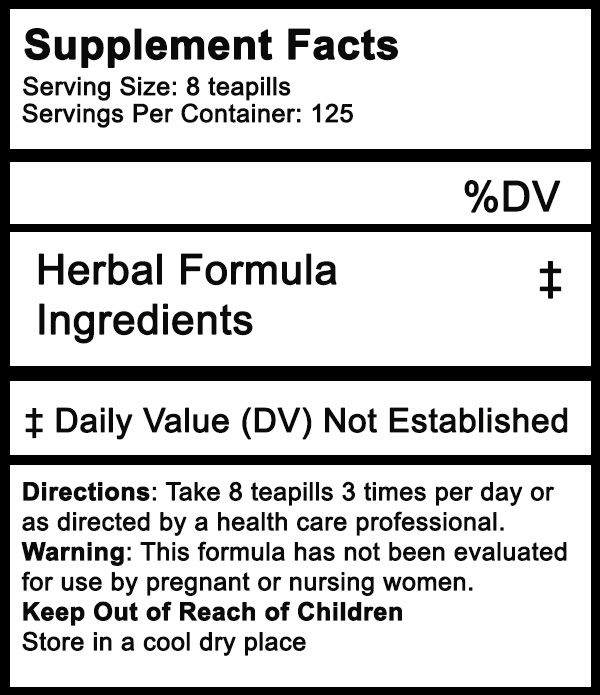 Quantity- 4 oz./114 gr. - Approximately 1000 teapills
Bottle lasts about 5 weeks
Serving Size: 8 Teapills
Servings Per Container: 125
Directions: Take 8 teapills 3 times per day or as directed by a healthcare professional.
Other Ingredients: 30% Certified Organic Brown Rice Flour
Warning: This formula has not been evaluated for use in pregnant or nursing women. As always, check with your doctor before starting any new diet, exercise, or supplements program.
This information has not been evaluated by the Food and Drug Administration.This information is not intended to diagnose, treat, cure, or prevent any disease.
Keep Out of Reach of Children.
Store in a cool dry place 56-82ºF.
More about tea pills and powders

Formula Break Down:
Ganoderma lucidum fungus, reishi mushroom, or ling zhi has been a revered wellness tonic herb used since ancient Taoist times in Asia. It is sometimes referred to as the "mushroom of immortality" because it is often viewed as a "cure-all". In recent times it has been employed as an agent combating immune disorders, cardiovascular diseases, stress and anxiety disorders, and inflammation.

Codonopsis pilosula root, or dang shen benefits the Spleen and Lung energetic organ system. It is a sweet nutritive root that builds Qi and vitality.

Polygonum multiflorum root, fo ti, or he shou wu benefits the Kidney and Liver energetic system while building Blood and nourishing the body.

Morus albus fruit, white mulberry, or sang shen is a nourishing herb that builds Blood in Chinese medicine.

Schisandra chinensis fruit, or wu wei zi fruit is a long revered superior tonic herb used for longevity and beauty since ancient times in Asia.

Rhodiola rosea root, or hong jing tian is an adaptogenic tonic from Tibetan medicine to moderate stress responses.

Astragalus spp. root, or huang qi is a famous Qi tonic known for its immune support potential and has long been used in Chinese medicine to "build flesh" or for regeneration of tissue.

Ocimum tenuiflorum herb, holy basil leaf, tulsi, or sheng zi su is often seen in Ayurvedic medicine as a nerve and brain tonic, and is used as a stress adaptogen and in cardiovascular diseases.

Rehmannia glutinosa, or shu di huang prepared root is one of the most common tonic herbs used in Chinese medicine and builds Blood and supports the Kidney energetic system.

Bacopa monnieri herb, brahmi is a popular brain tonic used in Ayurvedic herbalism for longevity and wellness, but has a long list of benefits and ailments that it is addresses.

Olea europaea herb, olive leaf, or gan lan shu cao is a western herb gaining popularity as a wellness and cardiac tonic that combats latent pathogens from developing.

Althaea officinalis root, or marshmallow is a Yin tonic herb that combats Stomach Yin Deficiency and improves the absorption of this herbal formula.

"PMC-12, a Prescription of Traditional Korean Medicine, Improves Amyloid β-Induced Cognitive Deficits through Modulation of Neuroinflammation." Park MY1, Jung YS2, Park JH1, Choi YW3, Lee J4, Kim CM5, Baek JU6, Choi BT7, Shin HK7. Evid Based Complement Alternat Med. 2015;2015:768049. doi: 10.1155/2015/768049. Epub 2015 Apr 7.
"Optimization on preparation conditions of Rehmannia glutinosa polysaccharide liposome and its immunological activity".Huang Y1, Wu C2, Liu Z1, Hu Y1, Shi C1, Yu Y1, Zhao X1, Liu C1, Liu J1, Wu Y1, Wang D3. Carbohydr Polym. 2014 Apr 15;104:118-26. doi: 10.1016/j.carbpol.2014.01.022. Epub 2014 Jan 17.
"Rehmannia glutinosa extract activates endothelial progenitor cells in a rat model of myocardial infarction through a SDF-1 α/CXCR4 cascade."
Wang YB1, Liu YF, Lu XT, Yan FF, Wang B, Bai WW, Zhao YX.PLoS One. 2013;8(1):e54303. doi: 10.1371/journal.pone.0054303. Epub 2013 Jan 18.
"Effects of Selenylation Modification on Antioxidative Activities of Schisandra chinensis Polysaccharide." Yue C1, Chen J2, Hou R1, Liu J1, Li X1, Gao Z1, Liu C1, Wang D1, Lu Y2, Li H3, Hu Y1. PLoS One. 2015 Jul 31;10(7):e0134363. doi: 10.1371/journal.pone.0134363. eCollection 2015.
"Schisandra chinensis fruit modulates the gut microbiota composition in association with metabolic markers in obese women: a randomized, double-blind placebo-controlled study".Song MY1, Wang JH2, Eom T3, Kim H4. Nutr Res. 2015 Aug;35(8):655-63. doi: 10.1016/j.nutres.2015.05.001. Epub 2015 May 14.
"Anti-inflammatory Effects of Schisandra chinensis (Turcz.) Baill Fruit Through the Inactivation of Nuclear Factor-κB and Mitogen-activated Protein Kinases Signaling Pathways in
Lipopolysaccharide-stimulated Murine Macrophages." Kang YS1, Han MH1, Hong SH1, Park C2, Hwang HJ3, Kim BW4, Kyoung KH5, Choi YW6, Kim CM7, Choi
YH8. J Cancer Prev. 2014 Dec;19(4):279-87. doi: 10.15430/JCP.2014.19.4.279.

View All
Close
Warranty Information
We guarantee to deliver the product as described. We cannot know if a certain formula that you choose will agree with you or not, or if you have chosen the most appropriate formula(s). We are unable to accept returns, opened or unopened, for any reason. Learn more about storing herbs on our FAQ;s page. Learn more on our Policy page.
View All
Close