Description
Great Mender Herbal Supplement
Bi-Syndrome Repair
Indications:

Supplements Facts
Active Ingredients:
Curcuma spp. root - yu jin - certified organic
Salvia miltiorrhiza root - dan shen - certified organic
Paeonia rubra root - chi shao - certified organic
Angelica sinensis root - hong hua - dang gui - certified organic
Achillea millefolium flower and herb - tu yi zhi hao - certified organic
Boswellia carterii resin - ru xiang - wildcrafted
Citrus aurantium peel - zhi shi - certified organic
Foeniculum vulgare seed - xiao hu xiang - certified organic
Althaea officinalis root - certified organic

Herbal Teapills General Information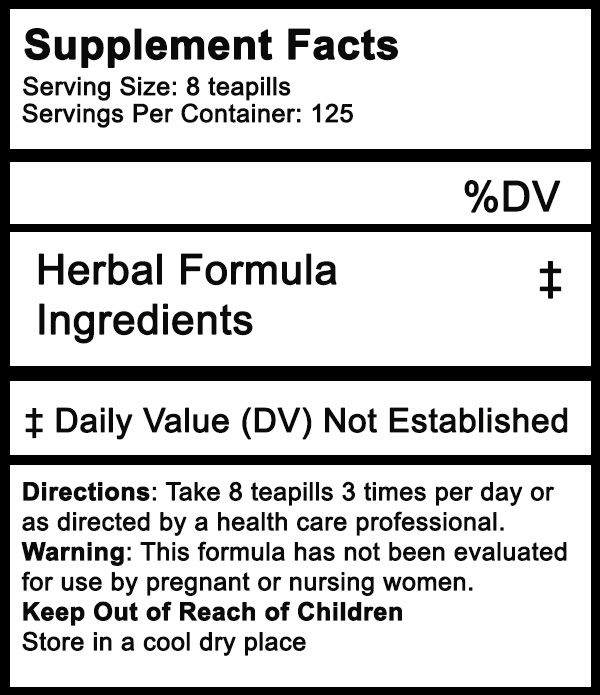 Quantity-4 oz./114 gr. - Approximately 1000 teapills
Bottle lasts about 3-5 weeks
Serving Size: 8 Teapills
Servings Per Container: Approximately 125
Directions: Take 8 teapills 3-5 times per day or as directed by a healthcare professional.
Other Ingredients: 30% Certified Organic Brown Rice Flour
Warning: This formula has not been evaluated for use in pregnant or nursing women. Contraindicated in pregnancy and for those with bleeding disorders or who are taking blood thinning medications. As always, check with your doctor before starting any new diet, exercise, or supplements program.
Keep Out of Reach of Children.
Store in a cool dry place 56-82ºF.
More about tea pills and powders
Great Mender in Powder Form Linked Here

References
This information has not been evaluated by the Food and Drug Administration. This information is not intended to diagnose, treat, cure, or prevent any disease.
View All
Close
Warranty Information
We guarantee to deliver the product as described. We cannot know if a certain formula that you choose will agree with you or not, or if you have chosen the most appropriate formula(s). We are unable to accept returns, opened or unopened, for any reason. Learn more about storing herbs on our FAQ;s page. Learn more on our Policy page.
View All
Close